Since 1977 ETA BETA has dedicated itself with passion and experience to the design, development and production of light alloy wheels for the aftermarket. The numerous models produced and the millions of wheels distributed worldwide have made the ETA BETA brand a widely acknowledged reality.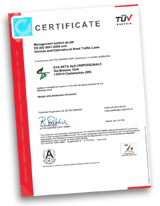 The stability and the growth of the company over the course of time is due to its own seriousness and devotion to a passion uniting millions of people around the world - love for cars. A consistent attention and care for the evolution of the "Planet Car" allows us to develop new models with the goal of tailoring the most different types of automobiles around the customer with ever more innovative ideas.
The quality of our product is guaranteed not only by our automatic systems of production, but also by a systemic process of rigourous checks carried out at every single stage of production. The TUV certification institute and the EN ISO 9001 standards guarantee the quality and the safety of Eta Beta products. With strength and stability as pillars, Eta Beta can still nonetheless provide flexibility - a quality greatly appreciated by our customers and the envy of our competitors.