June 12, 2013
--- Great product is the result of great design and often speaks for itself - direct to the brain; however, there are design factors incorporated into each eta beta wheel that are sometimes hidden from view or not entirely apparent. After all, they look pretty much the same as other wheels out there - don't they? Here are the facts.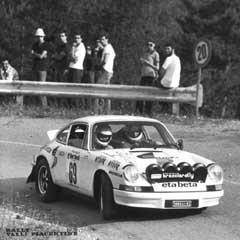 Why is your eta beta wheel better?
The company was founded 35 years ago by a racing rally enthusiast who just happened to be an engineer. Giorgio Prestini put his heart and brains into the project.


The company blends art, science, and technology (ISO standards, anyone?) under one roof to produce wheels that have credentials + looks for your fine car.


The company controls manufacturing from the acquisition of the raw material through the rigourous testing at each stage with precision instruments. Your custom wheels are cut to your car's specifications. Not off the rack. Did we mention the wheels are x-rayed to detect any flaws?


The company continues to innovate (above and beyond the patents) without deviating from this successful strategy. Always listening to the customer. Who likes color on their wheels?