RS Styling Grills for the Audi S4
Aftermarket Replacement Grills for the Audi S4 B6, S4 B7, S4 B8 and S4 B9
Scroll Down to See Your Grill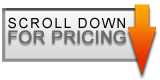 RS Grill for Audi S4 B9 & A4 S-Line- This is your invitation!
An LLTeK Rep will help you reach a decision on grille modifications compatible with your project.
LLTeK offers grilles for the Audi S4 from Uberhaus and Quantum. They are tested and fitted on real Audi cars so that when your choice arrives at your door - there is no guessing or worry about how installation will proceed.
RS Styling & Fitment for 2012-14 facelifted Audi S4 B8 (8K)
Center Grilles
Yes, you can complete this at home with a few tools and a friend or two. We've seen it done by individuals who are determined and diligent. On the other hand, if you are not the least bit mechanically inclined or have shown impatience when you're around tools - OR - you just have zero interest in do-it-yourself modifications, the good news is that virtually any shop (and that would include your Audi dealership) can get the OEM pieces off and the new ones on without breaking a sweat.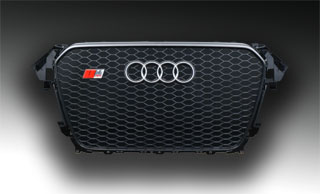 Quantum Grille released for 2013 facelifted Audi S4 B8(8K)
Piano Black Frame with Gloss Black Mesh
PDC Parking Sensor Ports Included
Euro-spec license plate holder Included
item# CGA-A4(B8.5) FL GBK
Price - $699 ea.
Badging purchased as optional separate item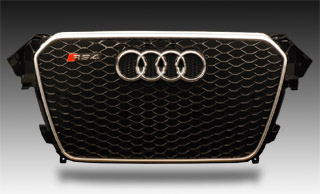 Quantum Grille released for 2013 facelifted Audi S4 B8(8K)
RS Matte Silver Frame and gloss black Mesh
PDC Parking Sensor Ports Included
Euro-spec license plate holder Included
item# CGA-A4 (B8.5) FL SBK
Price - $699 ea.
Badging purchased as optional separate item
RS Styling & Fitment for Audi S4 B8 (8K) before facelift
Center Grilles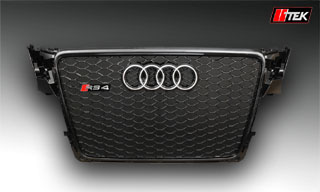 Quantum Grille for prefacelift Audi B8 (8K)
Piano Black Frame with Gloss Black Mesh & Integrated Rings
Please specify PDC or Non-PDC at time of ordering
Part# QG-C-B8-RS4-GB
Price - $699
Euro-Style License Plate HolderIncluded
Badging purchased as optional separate item
*Homelink Device may require re-location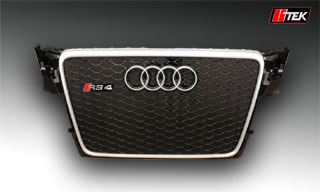 Quantum Grille for prefacelift Audi B8 (8K)
RS Silber Frame with Gloss Black Mesh & Integrated Rings
Please specify PDC or Non-PDC at time of ordering
Part# QG-C-B8-RS4-CB
Price - $699
Euro-Style License Plate Holder Included
Badging purchased as optional separate item
*Homelink Device may require re-location
Updated RS Styling grille Fitment for S4 B6 8H Cabriolet 2003 - 2006
Center Grilles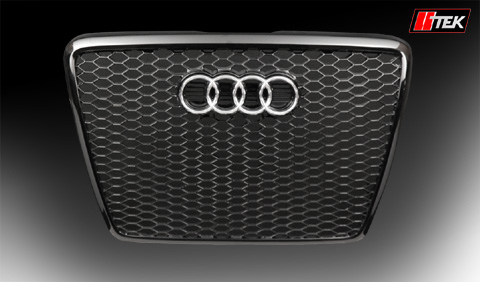 Styling Option Compatible with PDC* or without PDC*
Please specify PDC or Non-PDC at time of ordering
Part# EXA8D3-20 GBK)
Price - $888
Integrated Ring Holder
Chrome or Gloss Black Rings optional
Badging optional
RS Quantum Sport Styling Grille - Fitment for Audi S4 (B5 8D) 1996 - 2001
Center Grilles and Badging Options

Available in Silver or Piano Black Frame
Ring Holder Fixed/Integrated - No Rings or Mesh Only Look Not Available
Hood Release Port Located in 2nd Ring
RS or LLTeK Badging Optional
$244 ea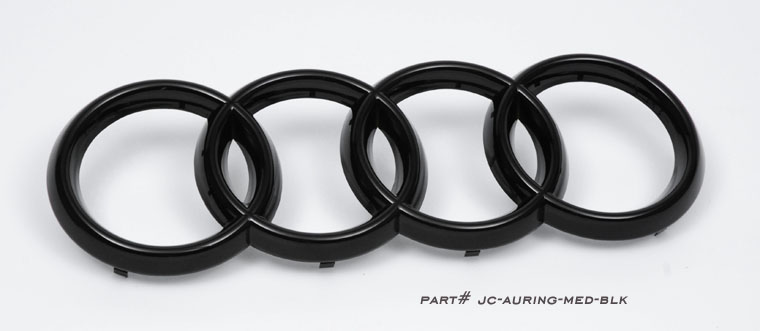 Bolt-on Application
Rings Available in Chrome or Black
Mounting Hardware included for discretionary placement
Available in 3 Sizes
Small Medium and Large