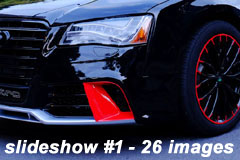 In all our time with Audi owners (20 years in 2016) - it's rare to get a call from an enthusiast looking to tune up a machine that's just been purchased brand new off the dealership's lot. Yes, a spoiler or grille or mirror covers - and most often a set of new wheels to put a personal stamp on it; but the whole nine yards usually goes to a car that has 2 or more years on it. There's a reason for that - especially when you're talking about a flagship model like the Audi A8. These cars are expen$ive machines and for the most part, are driven off the lot by corporate executives. It is the subsequent owners that recognise and realize all the potential inherent in these tech wonders. There were 60,000 A8 D4's made in Germany in the 2-year period 2010/2011 (there is an assembly plant in Russia.) You can
find one now
deeply discounted compared to when they sold at a premium with nothing on the odometer. Some still have factory warranties; some may have the Bang & Olufsen sound system option (1400 watts, 16 speakers, original price tage $6,000!) - call now Toll-Free 1 888 465 5835.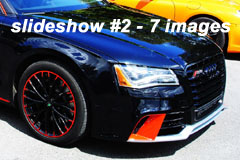 This styling package is based on Hofele's offering for the Audi A8 D4. The beauty in all of this rests firmly on Audi's understated styling - unmodified, these cars flys under the radar, and leveraging it up to an eyeball magnet is a straight forward process - old parts off & new parts on. The styling inspiration of the RS8 Red Line Optek comes directly from the German styler M Hofele. The look and feel of the design is right out of the playbook of the Audi RS stable. One look at the RS7, RS6, RS5 and RS4 and you understand the heritage of new M Hofele RS8 design.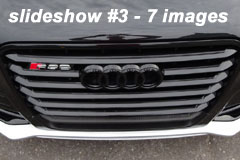 Build your very own RS8 Red Line Optek and start with these photos and tips as your guide. Pick up a slightly used A8 (first year 2011) and plan your new RS8 look. The cost is reasonable. The results are outstanding. No, you do not have to have red like our show car but red plus, black, silver, grey, etc. automatically turns heads. And, if your car is an S8 which is already amazing, you can make the transformation from super car to unbelievable supercar. Well maintained A8's currently (January 2015) fetch prices as low as $35,000 for the 2011 edition.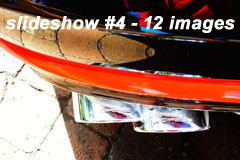 Look at all of the photos carefully. Each photo shows different views, angles and creates ideas and plans for you to consider.
Ask questions!
Call us at no long distance cost to you. We will be happy to answer your questions, help you plan and organize your RS8 build out program.
1 888 465-5835
.
Basic Kit
Let's begin with a basic low cost kit consisting of 4 basic items for the basic Optek Redline A8 look:
| | |
| --- | --- |
| 1) The RS8 Front Bumper | $2,999 |
| 2) The RS8 Cover Grill Set | $376 (or $599*) |
| 3) The RS8 Rear Valance (3 pieces) | $2,333 |
| 4) The RS8 Quad Tips | $1,499 |
| TOTAL | $7,207 |
OK, there may be some minor upcharges if you choose options like night vision or active cruise control ACC. In this case, item 2 goes up marginally to $599*.
Basic Plus
For a very detailed explanation of the parts and prices,
click the link here - which will take you to the Hofele D4 page.
Let's say you purchase your used A8/S8/W12 at a great price and you want to go beyond the basic plan. There are some really nice new parts for the preface A8/S8/W12. Here is a description of additional items you might consider on your personally styled Redline:
1) Left and right carbon fiber intake vents are suitable for cars with and without ACC (the corner intakes were painted red on the slideshow RS8 project car but your intakes will be delivered in carbon.)
2) Center lower main grill insert in carbon with optional available Quattro logo.
3) Pre-facelift black or chrome main grills suitable for camera vision in piano black or all chrome priced at Black $888 or Chrome $999.
4) New RS7 style side skirts redesigned to fit the A8, S8. Pre-facelift and facelift. Note: Currently not available for L cars. However, subject to upgrade. S8 cars may require minor removal of OEM parts for side skirt installation.
More Basic PLUS Options
Rear valance (2 parts) with carbon fibre center
$3,633
Lower door blades (not S8 unless adjusted)
$1,022
Rear wing
$1,133
Rear wing with carbon tip applied
$1,911
Stainless sport mufflers (2) with Quad tips
$3,699
Carbon fibre mirror heads
$2,133
Lowering module – electronic
$2,299
Center Muffler for full performance
$2,244
RS8 badges (Front and Rear)
$122
Genuine carbon fiber (L&R) intake scoops. Not cleared.
$999
Genuine carbon fiber (L&R) intake scoops. Cleared.
$1,299
Genuine carbon fiber lower main grill insert. Not cleared.
$-
Genuine carbon fiber lower main grill intake. Cleared.
$-
Quattro logo for lower center grill
$88
Quattro logo for rear of car
$88
Pre-facelift grill in Piano Black suitable for camera
$888
Pre-facelift grill in Chrome suitable for camera
$999
Pre-facelift side skirts (short only) (S8 needs mods)
$2,622
Always refer to A8 D4 for accurate pricing as we leave out small parts that many times are not needed (e.g. washer caps, TUV certification, etc.)
Project Summary
If you want to take advantage of the qualities of the amazing A8 D4 car and do not already own one, get there out and do the research. Car prices are only going down. A8 Q4 2011 (depending on equipment) can be as low as $35,000. Yet, add the RS8 styling kit and you build an amazing and stunning one hundred thousand looking car. As a starter, visit
CARSFORSALE.COM
. Click Audi A8 and the year 2011.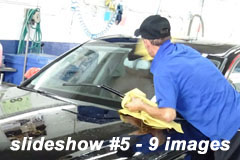 Photos
Look at each set of photos so that you understand just what can be done with your A8 car. And here is a little extra inside information about the A8 (now RS8) you will be viewing. The chrome surrounding the side windows was easily covered with a high gloss 3M Black wrapping product. Both black and red were used throughout. Other times real red paint was used. Here are some part numbers for easy reference from the 3M 1080 series.
| | |
| --- | --- |
| 3M Black Gloss | #1080 Series |
| 3M Hot Rod Red | #1080 Series |
| 3M Carbon Fiber Black | #1080 Series |
| Hot Rod Red Brand Paint Code 77963 | Audi LY3F |
Piuma Wheels
(our feature product) We start with wheel photos as this is a key design element. Made in Italy this is a classic wheel painted in a cutting edge design. And yes, there is fitment for Audi, BMW, Mercedes, Porsche, VW and many more. Just ask. And reasonable pricing.

Here are some quick reference prices and specs. Please also note there are many other finishes for the wheel and a lightweight variation is available for Porsche race fans.
And, of course, fitment is available for the entire Audi range of cars.
| Available Size | All Black | Red Pinstripe |
| --- | --- | --- |
| 18 x 8 | $433 | $570 |
| 18 x 8.5 | $466 | $577 |
| 19 x 8.5 | $488 | $644 |
| 19 x 9.5 | $511 | $666 |
| 19 x 11 | $533 | $688 |
| 20 x 9 | $555 | $737 |
| 20 x 10.5 | $588 | $777 |
| 22 x 9.5 | $888 | $1,022 |
| 22 x 10.5 | $911 | $1,077 |
20 x 9 - Recommended for the Redline A8 D4
If you have any questions regarding LLTeK and your Audi A8,
call now
toll-free in North America at 1 888 465 5835 or international at 001 514 733 6333 (GMT -5:00) - LLTeK business hours are 8:30 AM to 5:00 PM (EST) Monday through Friday - an LLTeK Sale Rep will be able to answer in detail.