Bimmer 1 Series E82 Body Kit from Rieger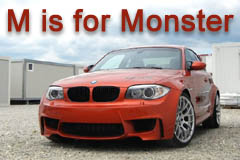 Designed and manufactured specifically for the coupe and cabriolet; the Rieger styling package consists of a front bumper, splitter, sideskirts, rear insert with exhaust options and a clasically discreet M-type trunk lip spoiler . The styling is straight up inspired by the oem 1M. As a sweetener and extra for owners of the E82 - there is always Rieger's exclusive carbon fiber look. Covers 2007 and on.

---
A Condensed Profile on the BMW 1 Series
Since 2004, the BMW 1 Series is assembled in Regensburg and Leipzig, Germany. Designed to compete against the Audi A3 and Volkswagen Golf, the E87 features rear-wheel drive (just like a real BMW) and a longitudinally-mounted engine.The 1 Series was first offered to the market as a 5-door hatchback and replaced the BMW 3-series Compact range. It is currently the BMW with the smallest footprint and lowest sticker price in the lineup.

This vehicle has its own platform but it shares many components with the E90 3 Series, including MacPherson struts in the front, and the special configured rear axle in the back. All in all, the car shares some 60% of components with big brother BMW 3-series E90.

The BMW 1 Series line has built out since the E87; LLTek is among the first to provide body kit styling and tuning options for the coupe (E82) and cabriolet (E88). LLTeK Motorsports continues to be an excellent choice for body kit styling and performance accessories. Call LLTek Toll-Free in North America at 1 888 465 5835 and get more info.