Sport Grille Styling for the 2008 - 2013 Audi A5 B8 and Audi S5 B8
Aftermarket Replacement Grills for the Audi A5 B8 (8T) & Audi S5 B8 (8T)
Scroll Down to See Your Grill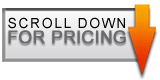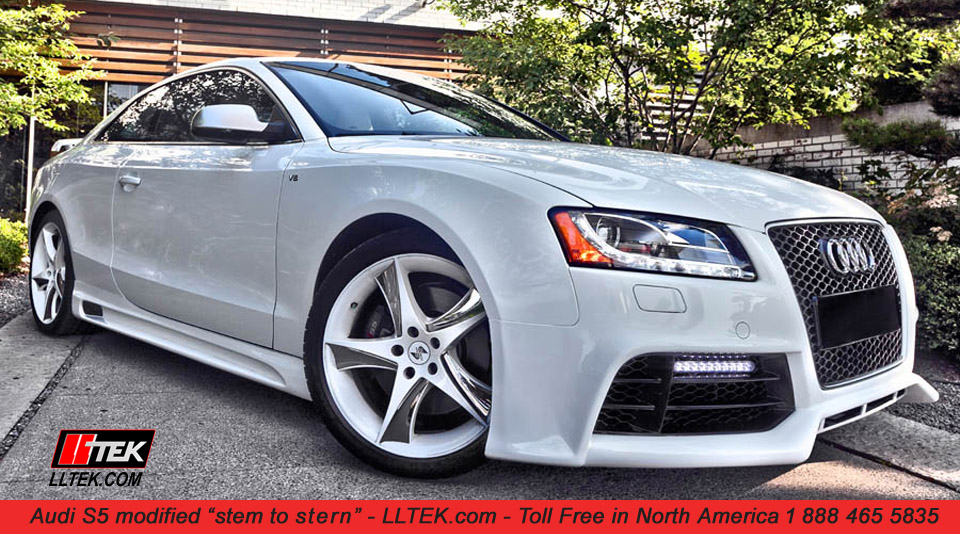 RS Grills for Audi A5 /S5
Audi's large (single frame) signature grille (first released in 2005 with the the A8 W12) is a defining moment in brand recognition. These days, with LEDs in the headlights (another Audi first) and the stalwart and iconic "4 rings" making the "Audi look" unmistakable; it all adds up to the envy of the auto industry with competitors shaking their heads and asking themselves - "Why didn't I think of that?" It would seem that competitors who follow will often ask themselves this question or some variation of the "I-am-kicking-myself-forever" syndrome.

If calling from outside North America - LLTeK can be reached at 001 514 733 6333. We'll take your questions on all our aftermarket parts for Audi and provide you with answers you can take to the bank.

LLTeK has been offering aftermarket grilles and badging since forever - our first printed catalogue featured a Kamei grille for the original Audi A4 B5. That was 1996, and although a lot has changed since then - as the saying goes - much has remained the same. Upgrades to grilles have consistently figured large for Audi tuners and with that experience, LLTeK is pleased to present more choices for Audi owners regardless of which model you're pushing through the curve.

Questions? Each and every grille offered here at LLTek is different - and each will present unique characteristics; our Sales Reps know the details (i.e. one size does NOT fit all) and will be happy to help you navigate / sort through the product line so you can purchase with confidence minus any surprise.



We are expecting your call and we are ready to answer your questions. In 2016, LLTeK celebrated 20 years of business dedicated to modifying German cars; call at the time that is most convenient for you - LLTeK's business hours are 8:30 AM to 5:00 PM ET (GMT -5), Monday through Friday and it's toll-free in North America 1 888 465 5835. International callers can reach LLTeK at 001 514 733 6333.

One call and your car is one step closer to RS styling.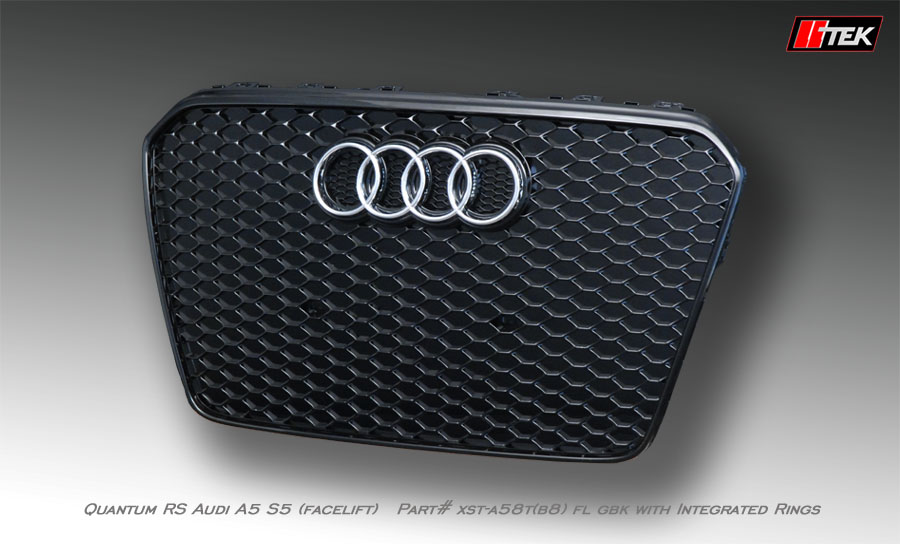 Quantum XST Sport Grille Audi A5 / S5 B8 (8T) after facelift
Fitment for Audi A5 S5 2013 and on
Replacement / upgrade grille
Rings Integrated
RS Badge included
installation optional
Euro License Plate Bar Included
installation optional
Part# QGXST-A58T(B8) FL GBK
Price - $699
Quantum Aftermarket Sport Grille for the Audi A5 & S5 B8 (8T) - before facelift 2007-2012
Most Visible - Highest Value Modification
Yes, you can complete this at home with a few tools and a friend or two. We've seen it done by individuals who are determined and diligent. On the other hand, if you are not the least bit mechanically inclined or have shown impatience when you're around tools - OR - you just have zero interest in do-it-yourself modifications, the good news is that virtually any shop (and that would include your Audi dealership) can get the OEM pieces off and the new ones on without breaking a sweat.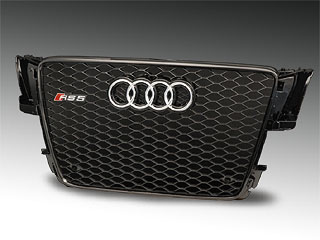 Fitment for Audi A5 S5 2008 - 2012
Replacement / upgrade grille
Quantum RS Piano Black
Optional Euro License Plate Bar
LLTeK / RS Badging on Request
Rings and Ring Holder Integrated
Part# QGCBB-A58T(B8) PFL GBK
Price - $699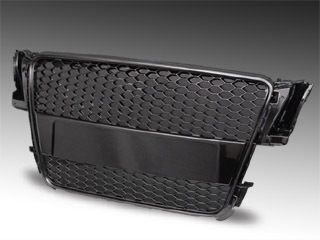 Fitment for Audi A5 S5 2008 - 2012
Quantum Piano Black RS
Replacement / upgrade grille
Integrated Euro License Plate Bar
RS / LLTEK Badging Optional
Rings and Ring Holder Optional
Part# QGYT-A58T(B8) PFL GBK
Price - $488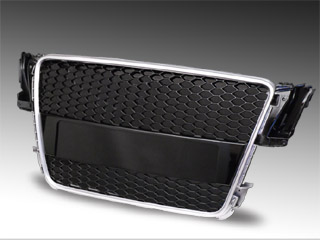 Fitment for Audi A5 S5 B8 2008 - 2012
Replacement / upgrade grille
RS Silber Frame with Hi-Gloss Black Mesh
Integrated Euro License Plate Bar
RS / LLTEK Badging Optional
Rings and Ring Holder Optional
Part# QGYT-A58T(B8) PFL SGB
Price - $488


Audi RS5 Grille for the Audi A5 / S5 B8 (8T) 2008 - 2012
Center Grilles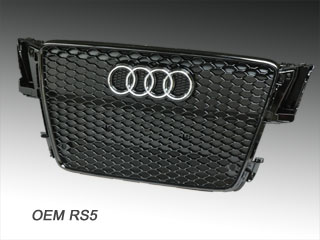 Fitment for Audi A5 /S5 B8 2008>2012
Piano Black Glossy RS5
Replacement / upgrade grille
Clean RS Mesh - No License Plate Bar
RS / LLTEK Badging Optional
Rings and Ring Holder Optional
RS5 badge and license plate holder additional
requires RIEA58T-53 Foamcore $99
Part# RIEA58T-51 (B8) GB
Price - $1299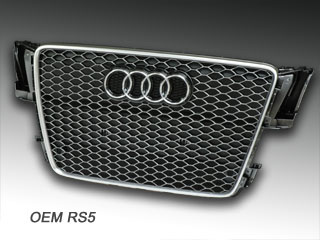 Fitment for Audi A5 /S5 B8 2008>2012
RS5 Gun Metal Finish
Replacement / upgrade grille
Clean RS Mesh - No License Plate Bar
RS / LLTEK Badging Optional
Rings and Ring Holder Optional
RS5 badge and license plate holder additional
requires RIEA58T-53 Foamcore $99
Part# RIEA58T-50 (B8) GM
Price - $1299
RS Quantum Sport Styling Grille Accessories
Center Grilles and Badging Options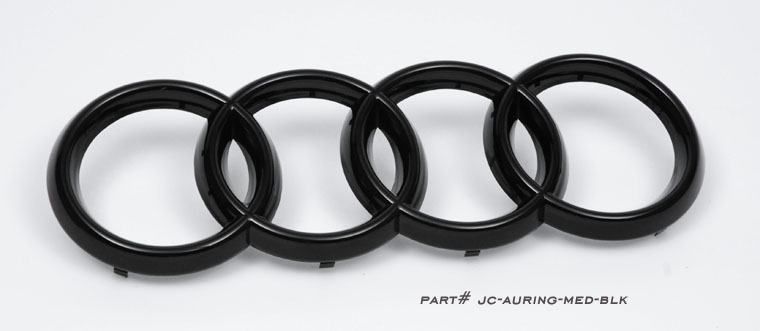 Bolt-on Application
Rings Available in Chrome or Black
Mounting Hardware included for discretionary placement
Available in 3 Sizes
Small Medium and Large